In April, Microsoft launched the Windows Autopatch update service for business customers, making it generally available later in July. The main of the service is to take charge of update deployments and reduce the burden on IT admins. On Microsoft Ignite 2022, Microsoft introduced new features that are now available on Windows Autopatch.
Windows Autopatch is a cloud service that automatically manages Windows 10/11, Microsoft 365 Apps for enterprises, Microsoft Edge, and Microsoft Teams updates for enterprises in order to improve security and productivity in organizations. This includes the creation of testing rings, monitoring health, and rolling back updates if needed. Windows Autopatch is aiming to make life of IT admins easier so they can focus on the tasks that matter, taking over patching Microsoft products.
Now there is a new application-based authentication available in Autopatch through Microsoft Modern Management Management app. Thanks to this new certificate-based authentication, enterprise users can avoid the chore of rotating passwords or handling Conditional Access (CA) policies.
Also, Microsoft has made the process of post-registration device readiness simpler. Previously, after running the Readiness assessment tool, your devices might have been sorted out into 2 tabs: Ready and Not Ready. Now devices that do not meet the prerequisites for Windows Autopatch enrollment are sorted in a "Not registered" tab whereas the devices with conflicting configurations are shown up in the " Not Ready" tab. And it's possible to get solutions tailored to each of them by clicking on the devices.
Microsoft explains why this change is important:
"We heard that making sure devices remain healthy and eligible to receive updates—and reporting on the status of those devices—was time-consuming (and expensive). With this update to the device registration flow, IT admins can easily detect and take action to remediate configuration mismatches or other issues in their environments that prevent devices from receiving software updates from Windows Autopatch."
And finally, quality updates reporting service has become available. Windows Autopatch reporting is designed to allow visibility into update status and device health, and offer insights into managed endpoints. The reporting offers data on update compliance as well as device and application performance.
To see the quality update summary report go to Reports > Windows Quality Updates.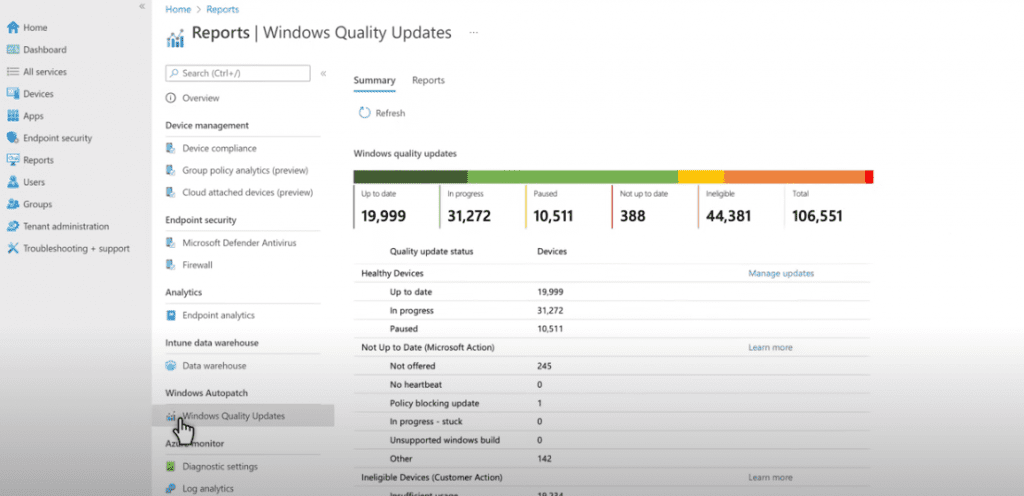 All devices report shows the update status of all devices.
All devices report – historical shows the update status of all devices over the last 90 days.
Eligible devices report – historical shows the update status of eligible devices over the last 90 days.
Ineligible devices report – historical shows why devices have been ineligible over the 90 days.